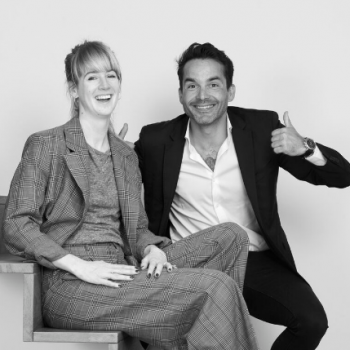 Never change a winning team they say. They are right!
Having grown up with strong women at home, Anthony Shaikh was taught from an early age that every tribe needs their balance. Let him present my right hand for 10 years, my business partner, my creative soulmate, the co-founder, and CEO of Shake Design&Bu
As an engineer, entrepreneur, and with 10 years of experience at Admos as Anthony's right hand and solid rock, Sara Staels earned her stripes and is more than ready to fully step into the spotlights.
She co-developed the concept of new ways of work, had original views on the client relationship, which brought us to be market leaders. Together they designed the #Google offices, #BMW, #Swift, #Proximus, etc.
As for Anthony : he is still in! As partner in crime and #founder of Shake Design&Build.

"Together with our team of experts we will continue to do what we're good at. Look into future needs and create, shape and rethink workspaces in the background of the current challenges: shifting views on #worklifebalance since Covid, #flexibleworking , #climatechange , the need for #sustainability.

We have always been game changers and will always aim to be ahead of things. Just because we love what we do!

Sara is leading our #tribe now, and I am confident that with her flair, experience and creativity she will lead it right where it needs to go: to a #sustainablefuture, where work and life are coming together.

Let's shake-it all up! "